⇩ Help us spread Liberty by sharing! ⇩
The good news is that President Donald Trump has pardoned Oregon Ranchers Dwight and Steven Hammond. The not-so-good part of it is that Dwight Hammond has already spent three years in prison and Steven Hammond has spent four years in prison. They have also paid $400,000 to the federal government.
The relentless War on the West continues as the prosecutors and BLM thugs who needlessly pursued and persecuted the Hammonds continue to grow fat off of taxpayer money. Pardoning the Hammonds was the right thing to do, but in many ways, it is too little, too late! It's time to abolish the BLM and to prosecute demented criminals like Dan Love. It's time to kick out the EPA and the Forest Service and give the land back to the states.
The protest at the Malheur National Wildlife Refuge which culminated in the cowardly execution of LaVoy Finicum began as a protest of the gross mistreatment of the Hammonds, but these pardons do not end the matter. These swarms of armed federal agents, including those who recently gunned down an unarmed woman riding an ATV, continue to terrorize the West and its inhabitants.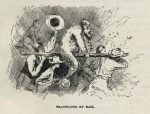 Until we expel these federal scum from our land, their reign of terror will continue!
Trump's pardoning of the Hammonds is absolutely worth celebrating, but it won't end the War on the West. We have to keep fighting until every federal enforcer is run out of the West on a rail.